Welcome Aboard! This site is devoted to all the cruises I have done with my friends and family over the last 35 years since I began cruising in 1983. I have cruised over 200,000 miles, travelled on more than 36 different ships and visited destinations as far-flung as Vietnam and San Francisco, the Falklands and the North Cape, the Caribbean and the Black Sea.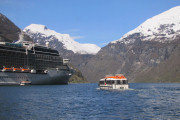 Cruising is a wonderful way of seeing the World without all the packing and unpacking. If you also love the sea and enjoy excellent food, then perhaps it's for you too. I hope you find something of interest and enjoy "cruise-browsing" on my website.

Captain Mark




The Cruise Log
See the full list of all cruises, ports of call and cruise mileages Here >>

Ship Galleries UPDATED!
Reports, histories & pictures Index >>


The Lynch Cruise Club
Who Are We?
Over the years, our exclusive little cruising circle has expanded to include
a number of very special friends. Find out more about us
Here >>
For a compendium of photos of our members, see the
Rogues Gallery >>
And for details of our caps and epaulettes, see
Lynch Cruise Club Insignia >>