Itinerary
Sunday
20th November
-
Fly to Miami, USA
& stay overnight
Monday
-
Transfer to Fort Lauderdale
& embark Equinox
Tuesday
-
at sea
Wednesday
-
Cozumel, Mexico
Thursday
-
Roatan, Honduras
Friday
-
at sea
Saturday
-
Puerto Limon, Costa Rica
Sunday
-
Colon, Panama
Monday
-
Cartagena, Colombia
Tuesday
-
at sea
Wednesday
-
George Town, Cayman Is.
Thursday
-
at sea
Friday
2nd December
-
Fort Lauderdale, USA
disembark and fly o/night to UK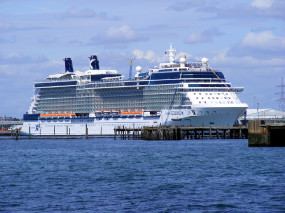 The 2nd of a new "Solstice-class",
Celebrity Equinox
in Southampton on her delivery in July 2009.
See the full Ship Report at Celebrity Eclipse Gallery >>
Back to the Revised Itinerary >>
Well, it's not the first time that we've had a cruise cancelled by Celebrity but thankfully, the lengthening of the ship's European deployment was announced a year in advance, so there was plenty of opportunity to review our plans and amend our booking - and with the help of $150 per person on-board spending by way of "compensation" we decided to keep our booking with the ship but in its revised location of the Eastern Mediterranean.
Cruise Mileage: - nautical miles

Total Mileage to date: 160,614 n miles