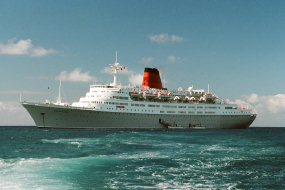 Vistafjord at anchor off Philipsburg, dutch St Maarten.
This was Mum & Dad's second cruise and it turned into a disaster.

Rather than spending 6 days crossing the Atlantic, they had booked to stay in Barbados at the Paradise Beach Hotel and then fly home, while John, Andrew & I would stay on Vistafjord back to Europe. However, Mum was taken ill with a thrombosis in her leg during the first part of the cruise and on arrival in Barbados, was taken into hospital.
Itinerary

= ports at anchor
Monday 23rd April
-
Fly to Ft Lauderdale, USA
and embark Vistafjord
Tuesday
-
at sea
Wednesday
-
at sea
Thursday
-
Charlotte Amalie, St Thomas
Friday
-
Philipsburg, St Maarten
Saturday
-
St John's, Antigua
Sunday
-
Fort-de-France, Martinique
Monday
-
Bridgetown, Barbados
Tuesday
-
at sea
Wednesday
-
at sea
Thursday
-
at sea
Friday
-
at sea
Saturday
-
at sea
Sunday
-
at sea
Monday
-
Funchal, Madeira
Tuesday
-
at sea
Wednesday
-
Malaga, Spain
Thursday
-
at sea
Friday
-
Ajaccio, Corsica
Saturday 12th May
-
Naples, Italy
disembark and Fly to UK
They cleared the thrombosis ok and, initially, Mum seemed to recover, so I left Dad with her in Barbados while the rest of us crossed the Atlantic back to Europe as planned. However, with each day, Mum got worse and then developed pneumonia. By the time we arrived home, she was in a coma. I was just about to fly back out there when we received the news that Mum had died in Barbados on 17th May. Vistafjord (and Barbados) would never be an attraction to us again.
Passing Sagafjord
1st day in the Caribbean
The Gala Buffet
aboard Vistafjord
Mum & Dad
My last photo of Mum
See Detailed Mileage Log for this cruise >>
Cruise Mileage: 5,856 nautical miles

Total Mileage to date: 24,116 n miles